In the summer of 2017, Jason Delgadillo (co-founder of this site) heard that some friends were trying to ride every trail on the Ridge to Rivers map in one month. Always up for a challenging adventure, Jason joined in on the fun. Then he realized it would be way cooler if we could hook in our GPS tracks automatically—no more spreadsheets to track our progress! He talked to some of his brilliant, tech-savvy friends and sketched out his idea. Here's a photo of his original concept: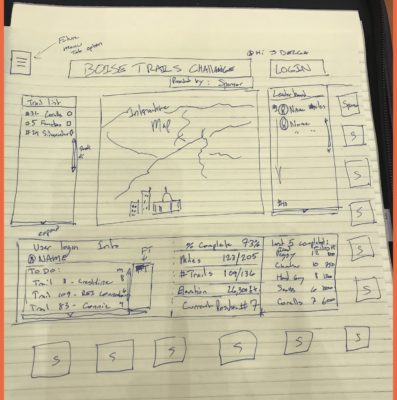 Now, after Jason's death, his vision is a reality, and the challenge is on! Signups for the Boise Trails Challenge are open here.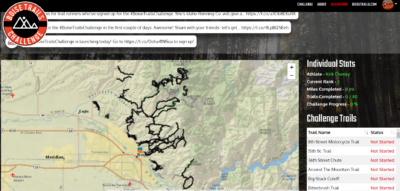 The Boise Trails Challenge is a month-long challenge to complete as many of Boise's trails as you can during August 2018. You'll discover new favorite trails, break out of your routine, test your endurance, and compete for prizes! All participants will receive high quality wool Boise Trails socks ($15 retail value), finishers and winners will get even more stuff, and we're also going to hide digital "easter eggs" that will trigger prizes if you happen to cross a certain trail spot at the right time. You can get all the details here.
Huge thanks to the developers, Dustin Patterson (Tisyla LLC) and Doug Green, who made Jason's visions a reality. And to the title sponsor of the challenge, Trail 27 Real Estate, for all their amazing help and support, and to all our other sponsors.