By: Kate Watson
Over the next few months we'll connect with hometown heroes who use Boise's trails, asking them each the same 10 questions about everything from trails to gear to grub.
Carlos Matutes is the Director of the Southwest Idaho Mountain Biking Association (SWIMBA). He's the organization's first director–which makes sense considering his history of trailblazing on bikes. Carlos said, "I don't want to even say this out loud, but I actually started racing BMX when BMX was a new thing in the 1970s." Thus began a lifelong biking habit. Carlos began mountain biking in the early '90s in Texas (which, due to the lack of mountains, he described as "hill biking"), and he has spent 25 years working in the bike industry. On the way home from the bike shop two years ago he was hit by a hit and run driver. "That changed everything for me," he said. "I knew I wanted to do something to make a difference."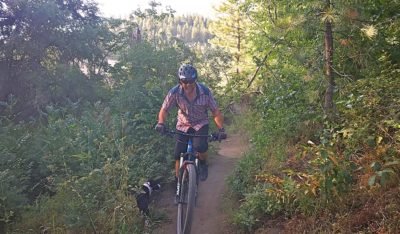 Q: Who are you? Tell us a bit about yourself.
A: I'm the Director of SWIMBA and I am deeply passionate about improving the trail system in Boise for everyone. And I mean everyone. A pro racer I know has a great quote that I love to steal. She said, "We can't continue to grow the sport of mountain biking by replacing all the middle-aged white guys with more middle-aged white guys." I'm an outsider myself, as a person of color, so I do get to see a little bit of the periphery of mountain biking and just how exclusionary it can be. So I really do want to make this sport that I love so much open to a much broader population.
Q: How did you get involved with SWIMBA?
A: I became a member of SWIMBA almost immediately after my wife and I moved to Boise six years ago. Over the last year SWIMBA's board decided to restructure and refocus. I was asked to come on board as executive director in June of this year. SWIMBA has always been a 100% volunteer organization, but they wanted professional direction.
Q: What do you wish people knew about SWIMBA?
A: I want people to know that we have changed our focus, and that we are an advocacy, education, and access organization. We're fighting for a diverse, inclusive mountain bike community, and we want to represent Treasure Valley mountain bikers. We estimate there are 20-25,000 mountain bikers here, and our job at SWIMBA is to be the point that these voices coalesce around so mountain bikers can have a collective voice and have a seat at the table. We don't want to push anyone else out, but we want to be there in that conversation.
Historically, we've always been a trail-building organization, but we're in a situation in the Treasure Valley where we have Ridge to Rivers, the Land Trust of the Treasure Valley and a $10 million levy For us, as a small non-profit, trying to horn our way into accessing land just doesn't make sense. We're still going to be out there building trails and maintaining and repairing trails, but we've shifted our focus into more advocacy and education.
Specifically, there's an organization here called Dirt Dolls with a mission to get more women on bikes. Disclaimer: my minor is in gender studies, so I've gotten a little better feel for the disparity and exclusion of women in the bike industry. Working for so long in the bike industry, I've worked with very few women because it is very much a boy's club. There's a lot of really offensive advertising that has occurred over the years, a lot of objectification of women, and that's really one of the big hurdles. We want to make sure we don't exclude any group, so we're going to work with Dirt Dolls to be actively inclusive of women and girls, including offering women's only rides and women's classes and clinics led by women.
Our other biggest push is to partner with the Idaho chapter of the National Interscholastic Cycling Association (NICA). NICA is essentially about junior high and high school mountain bike racing. NICA has a scholarship fund where people donate bikes so kids who can't afford mountain bikes can get out there and ride and race. By partnering with them, we get a chance to help some of the underserved communities experience mountain biking and very directly bring in kids that wouldn't normally be able to be a part of our sport.
Our pie in the sky thing, that will take a lot of foundational work to get going, is to have adaptive-friendly trails here. People with physical impairments are really limited on our trail system. We want Boise to be an example for other communities that we can bring everybody out onto the trails. The City of Eagle and Bogus Basin are already planning this, and we want to help be a catalyst to get it all going. Making trails more inclusive means things like widening trails to 48", the way turns are done, and the grades for climbing, since most adaptive cyclists use hand cranks and don't have the power output of an upright bicycle. It's a neat opportunity to be inclusive, because while doing something that might be specifically for somebody on an adaptive mountain bike, those same trails are going to be great for someone just starting out or for young people.
Q: In your opinion what's the best thing about Boise's trails?
A: The best thing is that the people here are pretty outstanding. Our community is spectacular. And we have great ease of access. You can literally ride from downtown all the way up to Bogus if you have the motivation. We have a ton of trails and they're all pretty easy for most people to get to.
Q: What's your favorite trail in Boise and why?
A: I have kind of a new favorite–it's the Shingle Creek to Dry Creek loop. You climb up Shingle Creek and come down Dry Creek. It's a beautiful climb, and it's broken up so you're not just grinding away at a single pitch. There are lots of trees on the upper half, then you get to the top and get to go right down Dry Creek, which is a relatively technical descent with lots of rocks and lots of creek crossings. It can be very high speed, yet again it's a really beautiful descent. From my years of living in Colorado I really like to climb in the first half and descend the second half–finishing up with a climb is just kind of a drag to me.
Q: What's your most memorable moment on a Boise trail?
A: A couple weeks ago we had a couple of semi-storms that didn't really bring us much rain. I was climbing up Sweet Connie and after having to wait for one of the biggest rattlesnakes I've seen since moving here cross the trail, I'm climbing up toward Bogus and this semi-storm is blowing through, and all of a sudden over Shafer Butte there's a double rainbow. It was so rad. If you go to Our SWIMBA Facebook page, it's the cover photo. I just had to stop and stare at it for like 15 minutes. It felt like the trails were giving me a thumbs up.
Q: Apart from Boise's trails what's your next favorite trail system/location to explore?
A: Oakridge, Oregon has some incredible trails. It's really, really beautiful there. One ride goes to Waldo Lake, which is a high alpine lake with incredibly sapphire blue water. There's a 21-mile trail that goes all the way around the lake. It's kind of technical and rocky with a couple of short punchy climbs, and it's just gorgeous. And there are tons of huckleberries in the late summer, which I'm a sucker for.
Also, in the Santa Fe area, the Dale Ball trails are incredible. It's nice because they're community-driven trails kind of like ours. They're accessible from semi-densely populated parts of Santa Fe, so it's kind of a neat trail system as well.
Q: What's your favorite after-bike ride spot to grab a bite or beer?
A: I'm a little biased because they sponsor the semi-race team I ride for, but Manfred's and Woodland Empire brewery. Manfred's has great food, and Woodland Empire is just a solid little local brewery. And it's really nice people. Tuesday nights they do $2 pints if you ride down, you just have to show them your helmet. They change their menu all the time, but you can't go wrong with the croquetas. They also have kind of a seasonal sour saison made with bread yeast, they call it Boule Sourdough Saison. It's got a great flavor and it's a good solid post-ride beer.
Q: What's the MVP in your gear supply?
A: It kinda has to be my bike. My beautiful Chromag Rootdown because I'm a hardtail guy (I want to be a hardtail holdout until I turn 50). I'm not much of a gear guy. To be honest with you, for close to 14 years I rode single speeds, because when you work on people's bikes for a living, the last thing you want to do is work on your own bike. That's part of why I still ride a hardtail, because they're low-maintenance.
Q: What would you like to improve or change about Boise's trail system?
A: Obviously I want to have more adaptive friendly trails. And one of my dreams is to have some purpose-built mountain bike trails. Between purpose-built trails and directional trails we can really mitigate a lot of trail conflict.
Another thing that I'd love to change about the trails here is progression. Right now we have a  lot of technically easy trails, but they'll have one hard feature that most people walk. You can be a really good rider and really technically skilled, but most of the trails here lull you into  a sense of complacency. Like on Bob's Trail, you're cruising along and it's smooth, and it's fast, and it's fun, and all of a sudden there's this rock feature. It almost always catches me by surprise and it's a high consequence place to have too much speed. We would love to have some trails where you introduce some rocks before "the big rock" to get you into the ready position and warm you up. We'd like to see a little more progression and more building of people's skills on the trails here.
Find more information and join SWIMBA at their website: www.swimba.org
Join SWIMBA and local mountain bikers at a screening of Red Bull's North of Nightfall, August 14 at The Flicks. All proceeds benefit SWIMBA. Find more information and tickets here.