Boise has miles and miles of great mountain biking. Get out your bread and knife, because these are our jams: Boise's best mountain bike rides.
Best 2-3 Hour Loops
Watchman Loop (16 miles; 2,300 ft. of climbing)
The Watchman loop is a cross-country classic: perfect for a weekend ride or a pre- or post-work ride in the summer when the days are long. Starting from Military Reserve, you have to tackle a steady 2,000+ feet of climbing, but the grade is moderate; there are no sustained "grunts." Rocky Canyon Road is a gradual gravel spin, and Five Mile Gulch is an easy singletrack climb until you reach the "gut check" climb on Watchman. The pain is brief, and then Watchman rewards you with a few miles of scenic hillside singletrack as you traverse the upper foothills. At the end of Watchman you hit Three Bears, and it's a ripper of a descent back to town from there. In 15 minutes, you'll descend what took you an hour and a half to climb.
Shingle Creek to Dry Creek (13.5 miles; 2,300 ft. of climbing)
Want to get away from the dry, sandy, sunbaked trails in the lower foothills? This loop is for you. It has a ton of variety: rock features, creek crossings, wide open sections, narrow singletrack, green pines and yellow sagebrush. This is our go-to loop on super hot summer days because it has ample shade and lots of chances to dunk your head in the cold creek.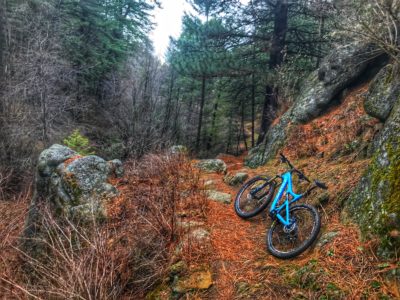 Because the upper portion of Dry Creek is painfully steep, most folks ascend Shingle Creek and descend Dry Creek. Both trails are a bit tricky–you wouldn't call them gnarly or super technical, but they're tight and constantly changing, so they keep you on your toes. For that reason, this loop is recommended for intermediate riders.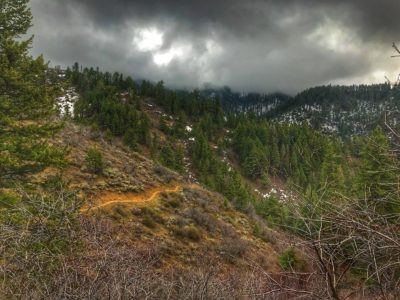 Best Technical Rides
Table Rock Tour (Mileage and climbing varies)
Most of Boise's trails are smooth and fast, with a hard, sandy composition. Table Rock is an anomaly: it's a playground of boulders and clay soil. Each trail is short but you can put together a legit loop with plenty of climbing if you connect them up. The highlights are Rock Island and Lower Tram. The eastern half of Rock Island has flowy whoops and occasional rocky step downs (all rollable).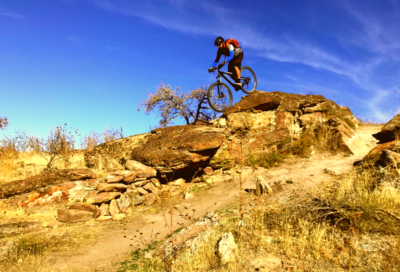 The western half has challenging "slow tech" rock features that require some pretty good bike handling skills. Finally, the southern spur is a short but rad rocky descent to the Lower Tram trail, another rad descent. For more mileage and fun chunky riding, use the Boise greenbelt to link up with the Castle Rock loop (including the Castle Rock Quarry spur).
Hulls to Bob's to Hulls (7.5 miles; 1,100 ft. of climbing)
This is the best ride if you're looking to combine a little bit of tech with a lot of flow. Starting from the Hulls Gulch trailhead on 8th Street, Hulls provides a nice, even climb with plenty of character: the trail follows a creek, dipping and curving with fun little rocks sprinkled here and there. At the end of lower Hulls Gulch, you're in for a painful grunt as you climb a portion of Trail 4 to the Hulls motorcycle lot. This part sucks but it only lasts a few minutes. After crossing 8th Street extended, keep an eye out for Bob's trail on your left. Bob's is a flowy but techy singletrack with one daunting rock section and plenty of other fun chunk. Bob's will spit you out into a neighborhood. A quick pedal through the neighborhood leads to a gravel access road that will take you back to 8th Street. The peddle back up 8th Street is boring dirt road climbing, but it's worth it to get you back to the top of Hull. Ride back up to the Hulls motorcycle lot, and then finish out the ride with a descent of Lower Hulls, which will take you back to your car.
Best All-Around Loop
Around the Mountain to Berm Baby Berm (11 miles; 2.000 ft. of climbing)
This one takes the cake for its super high smiles-to-miles ratio: tons of fun is packed into this 11 mile loop. Around the Mountain is one of the best mountain bike trails in Boise and in Idaho.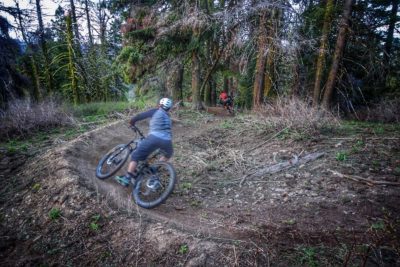 It's a quality high-terrain single track that circumnavigates Bogus Basin, with big views of the Treasure Valley and the Sawtooth mountains along the way. It's got tons of flow, too, with sculpted berms and relatively tacky dirt (except in the mid-summer). After Around the Mountain, make your way on Brewer's Byway over to Berm Baby Berm, Boise's new purpose built flow trail. It does exactly what it's supposed to do: it flows. The berms are huge, the jumps are forgiving (no gaps), and the G-forces are real. Honestly I don't know how you could not like this loop, no matter your skill level, but if you're a beginner, you might prefer to substitute Morningstar for BBB, and if you're an advanced enduro bro/chick, substitute G19 for BBB.
Best Beginner Mountain Bike Ride
Ridgecrest to Bucktail (6 Miles, 550 ft. of climbing)
This is a great ride for a beginner to get a taste of mountain biking on real trails–not a wide walking path or a rail-trail–without a lot of pain or risk. Ridgecrest and Bucktail are two smooth, meandering singletrack trails in Military Reserve that offer sustained but mostly mellow climbing and descending. Everyone from kids to newbies can handle these trails, provided their bike has working brakes and (hopefully, but not necessarily) a few gears. There are no technical obstacles, no trees to run into, and the steep hillside exposure is minimal.
Best Lunch Ride
Sidewinder to Freestone (10 miles; 1,300 ft.)
Folks who work in downtown Boise are lucky: they can easily sneak away for a legit mountain bike ride right from their office. The Military Reserve and Camelsback trail systems offer easy access from the East and North ends of downtown, respectively. This ride combines the two for a nice ride that takes almost exactly an hour depending on your fitness. Sidewinder is a fun winding singletrack that takes you into the middle foothills. Fat Tire Traverse snakes across the hillsides with great views of the valley. Freestone Ridge is a blazing fast downhill that'll get you back to your desk before your boss comes looking for you.
Best Mega-Loop
The Big Potato (41 miles; 6,500 ft. of climbing)
I know Idaho is officially the Gem State, but popularly it's the Potato State. So it's only fitting that the GPS track of Boise's best mega mountain bike loop looks like a giant potato. This is a big big loop for expert riders with great fitness. Budget at least 5 hours for this ride. It takes you from the soft rolling middle foothills up into the trees and back, with miles and miles of excellent singletrack and amazing views. You start with a long climb on Hard Guy, which takes you to the Boise Ridge Road. Then you climb on the Ridge Road for a few more miles, until Mahalo pulls you back into the trees. Mahalo is a fantastic forested trail with a few ups and downs that will allow you to break up the climbing.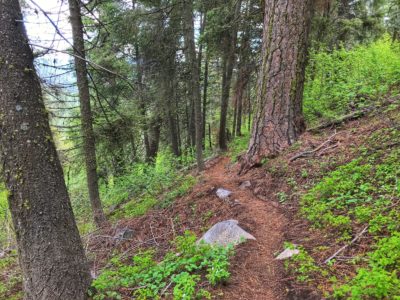 After some more climbing on the Ridge Road, you top out on Around the Mountain, one of Idaho's best trails. But the fun's not over when ATM ends. Descend Morningstar, then fuel up at Bogus Basin. Enjoy the flowy, shady downhill on Eastside trail. At the end of Eastside, catch Sweet Connie for a roaring descent back to lower Bogus Basin Road and your car. Treat yourself to a burger at Hawkins Pac-Out on the way home–you've earned it.