Trail runners are major users of Boise's trails. Trail running is a blast because, compared to running on the street, it offers more fresh air, more solitude, and more varied terrain–hopping over rocks and roots tends to distract the mind from the bittersweet pain in your leg muscles.
For the average trail runner, a good trail run consists of a loop under ten miles pretty close to town. Certainly not everyone is so limited: I'm always impressed when I meet a runner clear at the top of Hard Guy or Sweet Connie–that's a half marathon with a ton of elevation gain. For many of Boise's hardcore trail runners, it's just your average Saturday.
In this post, though, we'll stick to a few recommended Boise trail runs for beginner/intermediate trail runners. We'll cover bigger loops for experts in a future post.
Kangaroo Loop (Bucktail to Ridgecrest)
4 miles; 430 feet of climbing
This is a nice loop, and as an added bonus, the GPS track looks like a cute little baby kangaroo. Bucktail is the key trail in this popular loop. Start at any of the Military Reserve parking lots and use Mountain Cove trail as a gentle warm up. Then connect up to Bucktail, which is a mellow, swoopy singletrack that winds across a plateau in the lower foothills. The trail tread is smooth and the grade is forgiving and consistent, which makes it great for running. At the end of Bucktail, you can either turn back the way you came or use Ridgecrest to loop back to the bottom of Bucktail.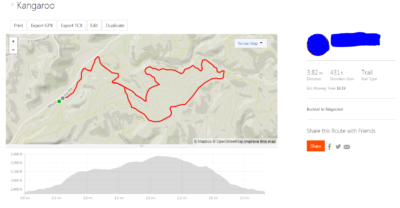 Lower Hulls to Red Cliffs
5 miles; 650 feet of climbing
This loop is great because offers lots of variety to keep your mind engaged and in the zone: you'll be hopping over rocks and weaving around corners, but never having to charge up seriously steep terrain. Start at the Hulls Gulch trailhead next to the Foothill Learning Center, behind Camelsback Park. Hulls Gulch is a great trail–check out the description here. At the end of Hulls, you'll use Crestline, a wide, mellow trail, to connect to Red Cliffs, which is a fun rollercoaster singletrack that will drop you back by your car.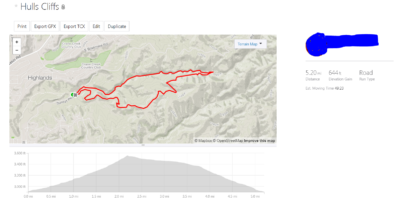 Polecat Loop
6 miles; 835 feet of climbing
Polecat Gulch has more runners than a prison yard with the fence left open. The name of the game here is smooth, steady, sidehill singletrack. Polecat has great views, not as many mountain bikers, and is nice change from the usual trail systems closer to downtown. Plus, at 6 miles, the loop is a perfect distance for your casual trail runner.